—————————————————————————————————————————————
Vol. 5, #8 August 2007 Nelson Waller, Editor Patriot Network Secretary, Assistant Editor
Dr. Robert Clarkson, Publisher
—————————————————————————————————————————————
IN THIS EXCITING ISSUE:
************************
************************
Valdy Beats Tax Thieves—AGAIN!
Right: Refugees flee their native Poland after its invasion in 1939. When Patriot Valdy and his loving wife escaped the East European tinderbox for the "freest country in the world," they thought they were leaving socialist oppression behind!

e-PC Editor comments: It's great when we have the privilege of reporting strong, effective citizen action by Clarkson tax patriots. But when one victor goes on to smash the tyrants again, it's wonderful!

In the February issue you read of Patriots Valdy and Malgorzata, who had beat a tough, complicated case, canceling out nasty new Illinois tax provisions in the process.* Now, Valdy is back. An update in The Great One's own words:

After outrageous conduct against him and his family, the Department of Justice ordered the IRS to return the money they stole from Valdy's paycheck. Patriot Valdy with assistance from the Patriot Network, filed a lawsuit in federal court under the unauthorized tax collection act IRC §7433.

The US Attorney also promised to refund to Valdy his court filing fees. The government has now admitted fault and the remaining issues are the amount of damages, pro se attorney's fees and costs.

A copy of the $5,500 check will be on our website soon. You can view Valdy's motion for Damages by clicking here. See the entire case under Statutory Bounty Hunters on our website.

* that exciting ruling in the State of Illinois' website:
http://www.state.il.us/court/Opinions/SupremeCourt/2005/December/Opinions/Html/98932.htm
Silver & Gold Explained
Buy Silver at Dealer Prices.
By Robert Clarkson
A program showing you how to protect your family and your future. All paper money eventually diminishes in value and wipes out working people who save.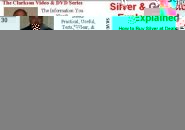 Learn….
What money is – and is not The future of silver and gold
Why investment silver Save money on taxes

Real security and protection Why hard money
Prepare for the future, protect your family
Video/DVD $20, Audio $10
Order from
2. Don't Get Railroaded
Rail system is a ridiculous option
Right: US Interstate 185 was extended a few years back as "the Southern Connector". Greenville County fat cats said the high-dollar toll road was critically needed, but there's almost no traffic on it.
e-pc Editor comments: Writing letters to the editor is a pure, classic First Amendment exercise. Here's a fine example by our Upcountry SC friend Nicholas Rotondo. It does pertain to taxes; of course you are paying your "FAIR SHARE" at city, county, state and country level so spendaholic politicians can fatten themselves on do-gooder schemes like this one, which has also been proposed for Anderson.
Editor:
In the April 19 Tribune-Times My Turn column, Fred Payne, District 28 representative, made his "opinion" more like an advertisement, stating several pro-Regional Express railway system pretexts based on recent presentations to the County Council Intergovernmental Relations Committee, input from city council members and other sources. I would like to see the real names of people who are pushing this rail transportation system.
"I believe we need to adopt an abundance mentality ..." (translation: this is going to cost an incalculable fortune), Payne remarked.
Supposedly the people who would ride the train would pay for the service, evidently ignorant or ignoring the fact that Amtrak and the Greenville bus system are constantly losing money based the same logic.
Consider how ridiculous train routes would be if Greenville used trains instead of buses. Trains travel on tracks to start with. Once tracks are laid it would be totally wasteful to try changing the routes if the routes were proven insufficient for the real needs of the people (at least a bus route can be changed easily). Pushers of this fiasco never tell that train traffic ties up other traffic ­ ever get caught waiting for a train at a railroad crossing?
Where will more land come from for more convenient routes? How much land will be confiscated for train stations? How will riders get to them?
Maybe another stealing of more property through supposed "eminent domain" (remember I-185) where private companies received the benefit of getting someone's property through government forces. Remember the Billy Mitchell case in Greenville?*
Payne wants to create a new governance structure with the city of Greenville for our local public transportation system. Anyone in favor of paying more taxes for another bureaucracy (euphemism: governance system)?
In my opinion this smacks of another trial balloon to see if there is any outcry against a runaway government intent on taking our hard-earned wages and spending them on some pork barrel project that may get them some votes or secure some campaign contributions.
Another example of an un-representative government where the few benefit through the force of government.
Nick Rotondo, Simpsonville
* Greenville fat cats were fined several million dollars for blatantly stealing political rivals' downtown property under eminent domain -- Ed.
Extra! This just in as we go to press, from GreenvilleNews.com:
Southern Connector expected to go into 'technical default'
Toll road's traffic, revenues half what was predicted

The Southern Connector toll road will likely enter "technical default" in January, giving bond investors from across the country the right to make decisions for the taxpayer-owned highway in southern Greenville County, said a director with Wall Street rating agency Standard & Poor's.

Traffic and revenues last year were less than half of what the Connector projected to investors when it sold $200 million in construction bonds, though bond documents say taxpayers aren't liable in case of default.

S&P bumped its investment rating on the bulk of Connector bonds further into junk territory to CCC, or three notches below investment grade......................

e-PC Editor comments: If the planners really only expected twice the traffic the Connector's getting, they must be half as intelligent as they looked when getting hired!
3. Patriot of the Month
Club Leader RW Moore of Toccoa, Georgia

Left: It's obviously been a good meeting — there's a spring in four Toccoa Patriots' step as they leave the meeting place with RW Moore in the lead. Behind him are Gene Chapman (the American Gandhi), Dr. Clarkson and Brother Larry.
They say that there is a fine line between stubbornness and determination. Nowhere is this truer than for Patriot Network club leader RW Moore. His friends know his unmeasured determination; his enemies know his unmeasured tenacity in defense of truth and freedom.

RW is one of the oldest active friends of the Patriot Network: he first helped its leaders mount several Confederate flag rallies in Georgia at the time Je$$e Jack$on and other communist front men were militating for Georgia to rip its state flag in half. RW was one of the few patriotic figures in the Peach State who recognized the urgency of the situation. If others had had this kind of common sense, Je$$e would have run screaming from the state and the flag would be unmolested.

Instantly Mr. Moore became a regular active supporter of the PN's work. One of our best live-action products is a video he made of The Great One leading an IRS intervention in Columbia (order here). In an earlier confrontation with the IRS, agents ordered him to turn the camera off. So he did, but continued to hold it at his side as it recorded the sound of the confrontation! The agent refused to meet the reasonable demands of the tax patriot in question and after an hour canceled the meeting! RW has also hosted numerous PN meetings (the Toccoa Patriots, which met at his newspaper headquarters for some time). He has videotaped Clarkson talks and conferences, and otherwise helped us keep truth in circulation.

RW came of humble beginnings as the son of sharecropper parents from Mississippi. Already as a schoolboy, he rankled against federal institutionalism: his mother would send him to school each day but he'd actually detour to a little shack he had built in the woods. Having never formally gone beyond a full third grade education, he taught himself to read by reading billboards while he drove over 2.5 million miles across our great country and Canada, as the General Agent handling the worldwide bookings for The Last Real Medicine Show.
In this position, he put the Medicine Show on the Today Show, the Charles Kuralt/On The Road show on CBS-TV, the David Letterman show, PM Magazine and many other family programs including those in Canada. Today he is founder, editor, and owner of The Truth Newspaper which is an outspoken voice against all forms of tyranny.
The state and area in which our hero lives, whether they acknowledges it or not, owes him a great deal of gratitude. He has on several occasions single-handedly defeated bills and laws that would have had a drastic effect on the town of Toccoa (where he makes his home) from both a freedom and financial perspective. In Stephens County, as the Founder of TAKE BACK GEORGIA, he almost single-handedly stopped a land use law which was designed to severely restrict a person's right to use their own land as they see fit. He beat the money- and power-grabbers in this fight by 994 votes in Stephens County (of which Toccoa is the seat) and caused 3,000 people to rally in protest at the county meeting in Hart County. His efforts caused the sponsors to table this proposed law forever.
RW also stopped the virtual giveaway of the Stephens County Court House Annex. He dared in his very first issue of The Truth Newspaper to publish the often exorbitant salaries of the officials of this town and county, much to their chagrin. What would this country be like if every community had such a fearless local paper, and advertisers (who are usually part of "the system") to support it? The Truth Newspaper has since taken on a more national focus and has a rich national and freedom movement base.
There are other reasons that Toccoa has reason to be grateful for RW. In 1962, he organized the first volunteer fire department. In 1976, Moore organized the Civil Air Patrol to find downed pilots in the treacherous Blue Ridge Mountains nearby. The CAP was the main search vehicle for citizens killed in a major disaster when the dam broke over Toccoa Falls College in 1977.
Other accomplishments: In 1974 Moore earned his private pilot's license. In 1992, after selling his stock in the producing company of the Medicine Show and retiring, Moore created the first Electric Billboard and "The World's Only Talking Park Bench." Some of his other inventions are the Folding Wing plans and kit for airplanes with a box-type spar as well as the Missing Link Vacuum pump drive system for airplanes with Volkswagen engines.
"Inventing must be in our family blood," RW says: His great-grandfather Alexander G. Wilkins has 26 US patents to his credit from 1850-1898.
For a professional promoter, his interview, below, is rather modest!
Patriot of the Month Interview
Tell us about your earliest connection with Dr. Clarkson and the Patriot Network.
I saw something he was posting way back about eight or ten years ago on the internet and invited him to speak to an organization I founded in Toccoa, Take Back Georgia. He came to speak.

Among all the freedom organizations out there, what in particular do you like about the Patriot Network?

Always treated me kindly and nice.

When did you first become active in the freedom movement?

All my 76 years.
Featured product of the month
DUE PROCESS OF LAW & COMMON LAW
6 Sessions - 5 hours
PROPERTY RIGHTS AND PROTECTION

HOW TO WIN YOUR CDPH

THE AUDIT COLLECTION PROCESS AND EFFECTIVE ROADBLOCKS

STOPPING AND REMOVING LIENS AND LEVIES

JUDGEMENT PROOFING: HOW TO PROTECT YOUR PROPERTY FROM THE TAX THIEVES AND CREDITORS

REMOVING SOCIAL SECURITY GARNISHMENTS

RECOGNIZING AND USING SNEAKY LAWYER TRICKS
DVD $30 Order now from The Patriot Bookstore
4. Money Fraud vs. Money Truth
by Jason Hommel, May 17, 2007

Major Frauds of the U.S. Monetary System.
1. The dollar is a broken contract to repay with gold or silver.
2. Unrestrained creation of money increases an already unpayable debt to the public.
3. Banks don't possess the fraudulent paper money they say is in your accounts.
4. The FDIC is a lie; they don't have the money to cover the accounts either.
5. The central banks only possess half the gold they say they do, the rest is leased out.
6. Bonds are a paper promise to pay more fraudulent paper promises.
7. Inflation indexed bonds adjust by using a false rate much lower that the real rate.
8. More futures contracts are sold, than silver or gold exists.
9. Options are a bad gamble on leveraged futures, and most expire worthless.
10. Position limits on longs attempt to control the market by limiting buyers' purchases.
11. COMEX silver delivery delays are market defaults.
12. Bank hold times on checks defraud you of access to your money.
13. Legal tender laws prevent people from using gold and silver as money.
14. Taxes on gold and silver purchases are illegal since it is only one tender for another.
15. Income tax was to be temporary from WWII; it's fraudulent and unconstitutional.
16. The social security system, medicaid, and medicare is a pyramid scheme and will collapse.
The Use of Paper Money Violates All of the Ten Commandments
1. You shall have no other gods before Me. Paper money creates slaves to debt and if debt is your master it is also your god.
2. You shall not make for yourself idols. Paper money is printed with an image and requires faith to maintain its value, we are to trust God not money.

3. You will not use the name of God in vanity. By putting God's name on the dollar we swear an oath to its value even though it has none.

4. Remember the Sabbath and keep it holy. The Sabbath was made for rest from debt but we don't forgive debt with the dollar; instead, we compound it.

5. Honor your father and mother. By taking away stability by the use of the dollar we steal the life savings of our fathers and mothers.

6. You shall not commit murder. Many have lost their lives in war due to the government's need to keep the dollar viable; also, the valueless dollar causes deaths through poverty.

7. You shall not commit adultery. Debased coinage is literally "adulterated". Those who support a false currency are committing themselves to an idol and therefore whoring themselves out to a false god.

8. You shall not steal. Paper money is a promise to pay but with no intention to do so, therefore it is theft.

9. You shall not give false testimony. Paper money is a lie.

10. You shall not covet. More valueless paper money is printed every year to buy things we cannot afford simply because we want them.
God's ways will make you wealthy.

More writings on money by Mr. Hommel:
http://www.gold-eagle.com/editorials_04/hommel022604.html
5. Secret Service Hounds Creative Evangelists


by the ePC editor

Living Waters Publications had a brilliant idea — designing an evangelical tract in the form of a greenback in a fictitious denomination, i.e. one million dollars. These were to be left on sidewalks for the public to pick up. We tried this in a less elaborate form in the Populist Party of New Jersey years ago, and it surely did not originate with us.

Apparently bank employees don't know that real million-dollar bills do not exist. When someone took one of the tracts to a bank, it absurdly became a federal case starring the Secret Service!

The Secret Service's duty is "the prevention and investigation of counterfeiting of U.S. currency and U.S. treasury bonds and notes." Clearly, only a fool would think that's what Living Waters is trying to do.
Best of all, this agency is part of Homeland Security! Gee, isn't it good to know that our government is really on top of things, rooting out the most heinous enemies of America's peace and tranquility — you know, like evangelicals using play money to reach people with the Gospel?
Will the Secret Service next go after Parker Brother's for all the play money they've printed in the 70-year history of the Monopoly game? We like Living Waters Publications' derring-do and its choice to take this crisis as a blessing and breakthrough. So far the embattled tracts are still being freely circulated and the government's case has collapsed. Article that follows has been condensed.
*****************
Secret Service agents seize thousands of $1 million bill gospel tracts

http://www.christianexaminer.com/Articles/Articles%20Jul06/Art_Jul06_07.html
DENTON, Texas ­ Secret Service agents showed up at the office of Great News Network in Dallas, Texas June 2 and demanded their entire stock of $1 million gospel tracts, which are produced by Ray Comfort's ministry, Living Waters. The tracts are used by Comfort and his co-host Kirk Cameron and have been promoted on their national television program, "The Way of the Master."

Since the seizure, demand for the tracts has escalated, with half a million of the tracts sold in one day.

Initial reports after the bust, indicated that the Secret Service may also pay a visit to Comfort's national offices in Bellflower, Calif. and confiscate their entire stock.

According to officials, someone in North Carolina took one of the $1 million tracts to a bank and tried to deposit it into their account, Christian Worldview Network reported.

Secret Service agents threatened the Denton employees with arrest for counterfeiting and seized 8,300 gospel tracts designed as "million-dollar bills."

Three Secret Service agents visited the Great News Network offices asking staffer Tim Crawford if he was responsible for printing "the million-dollar bills," according to a WorldNetDaily.com report.

The conservative Internet news service said Crawford suggested they talk to his boss, Darrel Rudus, the founder of the organization that trains evangelists from around the country in the techniques of witnessing their faith.

Rudus' organization, like others nationwide, distributes the tracts as part of its evangelism outreach. They are printed by Living Waters, which prints millions of them annually.

By telephone, Rudus offered his opinion that it was impossible to counterfeit something that wasn't real—­a $1 million bill, WND reported.

The agents explained that a woman in North Carolina had attempted to deposit one of the $1 million bills in her bank account. The address of the Great News Network was on the back, prompting the Secret Service visit, according to WorldNet Daily reported.

The news report said that before he got off the phone, Rudus was convinced the agents were going to drop their demand for the Great News Network's tracts.

Arrest threatened

But later, he said, the agents again demanded them from Crawford, threatening him with arrest for "concealing evidence." Rather than face arrest, Crawford turned over the approximately 8,300 million-dollar tracts the group had stored. The agents left a receipt and their business cards.

Comfort told WND he was stunned by the action of the Secret Service and expects agents to visit his California offices soon. He said he has no plans to abandon the use of the tracts, which are among the most popular of the many his organization distributes.

"I'm not going to stop printing them," Comfort said. "How can you possibly counterfeit something that is not real—­a $1 million bill?"

One side of the tract is designed like an imaginary $1 million bill. The other side has the gospel message written around the border. It also includes this slogan: "The million dollar question: Will you go to Heaven? Here's a quick test." The note goes on to explain the salvation message. It concludes with, "Please, repent (turn from sin) today and trust in Jesus, and God will grant you everlasting life. Then read your Bible daily and obey it."

The tracts are also clearly marked on the front: "This bill is not legal tender."

Rudus said he won't be deterred from distributing the tracts in the future.

Brian Fahling, senior Trial attorney of the American Family Association Center for Law & Policy, is representing Comfort and has advised his client not to turn over any more tracts without a federal warrant.

"It is abundantly clear to anyone with a modicum of common sense that the 'bills' are not made with an intent to defraud, but rather, they are distributed with the intent to reveal the Truth (the Gospel message is written around the border on the back of the bill)," the attorney said. "No thinking person could believe the bills are real. If the Secret Service does not cease from this intrusion upon the free speech rights and free exercise rights of Ray Comfort and others, that agency will be explaining its outrageous conduct to a federal judge."

Despite the forfeiture, the publicity has driven sales to a frenzied pace, turning the entire episode into a blessing.

"So we are now going for the biggest print we have ever had—­over a million and a half, and if the Secret Service do show up and seize them, we stand to lose millions," Comfort said.

A separate order of 100,000 limited edition Secret Service bills have also been ordered.

"But this is a Christian ministry and we render to 'seizures' the things that are Caesar's, and to God the things that are God's. We will then leave it to the courts to decide what belongs to whom."

For more information, or to order the million dollar tract or any other of the many evangelistic resources, visit, livingwaters.com.
6. Wedding Announcement

PN orator and computer guru Brother Larry is pleased to announce his engagement and upcoming marriage to Miss Rachel of Woodruff, SC. Rachel is a patriot and has served as a member of Dr. Clarkson's secretarial staff for the past year. Like Larry, she enjoys attending meetings and flag rallies when she can, but most of her work consists of being a member of the small army of office staff required to keep the Patriot Network humming along smoothly.

Many of you know Brother Larry from his appearances at patriotic meetings, from those in his hometown of Toccoa, GA, to Atlanta as well as several Greenville, SC, PN locations. Brother Larry was Patriot of the Month in November of last year. He has authored several articles for this newsletter and serves as webmaster for the Patriot Network.

The wedding is scheduled for mid-September at the bride's home church. The couple plans a honeymoon in the Appalachian foothills, and will be living in upcountry South Carolina thereafter.
e-Patriot Cannon Is Now Digital!
The Patriot Cannon, the monthly newsletter of the Patriot Network, has been converted to an electronic format. The new Patriot Network newsletter, the e-Patriot Cannon, is now totally electronic and is only distributed via e-mail. The membership newsletter is now an e-zine.
The mailing list for the ePC is now an e-group by Yahoo entitled Patriot Network e-group [PN]. You should receive our new e-zine occasionally at your email address. If you receive this issue via the PN-egroup that means you are in the Yahoo e-group for members. If you receive this e-zine directly from Clarkson, that means you are not subscribed to the membership e-group. If you do not receive this e-zine on a regular basis, that means you are not subscribed to the e-group. To subscribe, ask the PN to send you the invitation.If you do not wish to receive this e-zine, you can simply remove yourself from the e-group. You can do this by clicking the Unsubscribe section below.
This newsletter is designed for members of the Patriot Network. You can forward this to prospective subscribers but this newsletter is not designed for the general public. If you are not a member of the Patriot Network, or you were a member but allowed your membership to lapse, please click on the Unsubscribe section below.
Disclaimer: "Robert B. Clarkson is not a lawyer. He is not licensed to practice law in South Carolina or in any other state or jurisdiction."